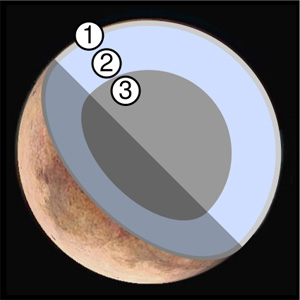 Pluto - less planet, more delicious candy center!
Pluto's Loss is My Gain!
by Kid Nougat
Last summer, you probably heard the weird news about Pluto losing its status as a planet. I'm not sure how such decisions are made, but I DO know this: I didn't like that decision one bit. I thought, what if the Powers That Be decide to discriminate against smallness at will? What if they decide that Rhode Island is no longer a state? (Honestly, I wouldn't care, but what if?) What if they decide that Peter Dinklage is no longer an actor? ARE YOU CATCHING MY DRIFT?

Then I read something that made me happy, so I stopped caring!

Check it out. Remember that old mnemonic device for memorizing the planets? "My Very Educated Mother Just Served Us Nine Pickles." (Or "Pies," depending on where you're from.) Well, because Pluto's no longer a planet, the NEW AND IMPROVED version is "My Very Educated Mother Just Served Us Nougat."

I KID YOU NOT! Read all about it HERE at Urban Dictionary!

Finally! My nom de plume will be taught to schoolchildren everywhere! It's about friggin' time!

Adios, Pluto! Hello Everlasting Fame!

More Kid Nougat Editorials: