Greetings, Snack Fans! It is I, the one and only Kid Nougat, fresh from flying in from Paris, and boy are
my arms tired. (Seriously, where else but WASAW can you get jokes of this caliber for free?)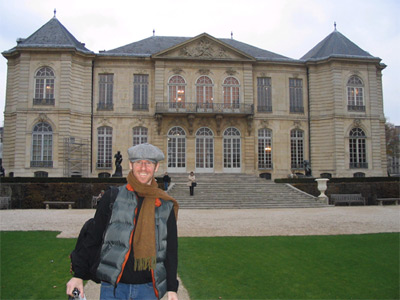 CHECK ME OUT! That's me at Rodin's Museum of Marvelous Munchies! Say, have you ever eaten an exact replica of "The Thinker" in white chocolate? YOU SHOULD.

Yo, these French people don't have hot dog vendors. They've got something much much better – dudes who make chocolate crepes RIGHT OUT ON THE STREET! Naturally, I quickly learned French for "Gimme seven chocolate crepes, and step on it." (Donnez-moi que le chocolat crepes dans une hâte.) Sure, the French hated me, but who cared? I HAD CHOCOLATE CREPES UP THE WAZOO! Nutritious? No. Delicious? Indeed.

Let's talk about you. As a fan of our site, I'm sure you're aware that my colleagues and I have never reviewed cheese and baguettes. So let me be the first…

CHEESE AND BAGUETTES RULE.

Okay, review over.

I also had a chocolate bar called "chocolat au lait," which was basically a French Hershey Bar. Click HERE if you can read French and want to know a little something about it. It's a link to the company that produces the bar.

Au revoir! Casse-croûte sur!
Kid Nougat's
snack reviews
Martin's Kettle Cook'd, Hand-Cooked Potato Chips
Marshmallow Peeps
Keebler Wheatables: Honey Wheat
Nabisco Swiss Creme Sandwich Cookies
Smartfood White Cheddar Cheese Popcorn
Sour Razzles
Nestle Tollhouse Cookie Candy Bars (Soft & Chewy)
Vienna Fingers
Snickers Almond Bar
Snyder's Mini Pretzels
Hershey's S'mores
Yodels
Reese's Fast Break
Willy Wonka Bottle Caps
Skybar
Harmony Snacks Swiss Mix
Stauffer's Ginger Snaps
Hot Tamales
Good & Plenty
Basil's Macaroon Cookies
Ruger Chocolate-Flavored, Sugar Free, Reduced Fat Wafers
Mars Bar
Zero Candy Bar
Joyva Joys
Mr. Goodbar
Hershey's Kisses
SunMaid Raisins
Peanut Butter M&Ms
Knott's Berry Farm Raspberry Shortbread Cookies
Mike and Ike COOL KIDS
Hershey's Whatchamacallit