Reviewed By: Paddy O'Poppycock
Location: A&P - West Milford, NJ
OFFICIAL NAME OF SNACK:
Turkey Hill Double-Decker Ice Cream Sandwich
PRICE: $1.50

WEIGHT: 4.3 oz.
DESCRIPTION OF SNACK:
Start with your traditional ice cream sandwich. Now, instead of just having vanilla ice cream in the center, you get all crazy and layer the ice cream - half-vanilla, half-chocolate. Now, it's not twice as much ice cream, just two different types.
Also, take one of the standard chocolate cookie "wafer" outsides and replace it with a vanilla cookie "wafer" outside. Kinda' leaves you scratching your head as to why anyone would do this, but it tastes good.
SSI RATING (SNACK SATISFACTION INDEX - 1-10): 7.5
UPSIDE: Fun. Summertime ice cream treats are all about fun. And what could be more fun than taking your traditional ice cream sandwich and flip-flopping the flavors so that one half is vanilla and the other half is chocolate? Nothing could be more fun, that's what. Unless that same ice cream sandwich could tell jokes while you eat it. Then it would be more fun. Also, creepy.
Turkey Hill products, may I add, are quality. The Double-Decker Ice Cream Sandwich is no exception. The cookie wafers are better than the typical ice cream sandwich cookies, and the ice cream, itself, is a nice notch up from your traditional Good Humor product.
DOWNSIDE:
Well, it's not really a double-decker, now, is it? Sure, you've got two types of ice cream layered on top of each other - although not as nicely done as the packaging would lead you to believe (see PACKAGING below). But this is more like an ice cream sandwich "twist" if you will. It's not a double-decker.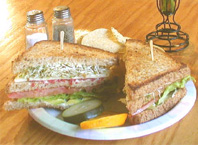 A double-decker would technically include THREE cookies and TWO helpings of ice cream. You know, like a double-decker sandwich.
Does Turkey Hill think it's fooling anyone with this snack name? Besides Mets fans and anyone who paid money to see Catwoman, I mean.