Fresh Snack Reports | Contact us

Raisinets
OFFICIAL SNACK REPORT
Sanctioned By WASAW Snack Committee
Reviewed By: Paddy O' Poppycock

Location: Vending Machine

OFFICIAL NAME OF SNACK: Nestle Raisinets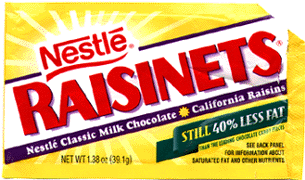 PRICE: $.60

WEIGHT: 1.38 oz.
DESCRIPTION OF SNACK:
Raisins dipped in chocolate.
SNACK LOOKS LIKE: Rabbit droppings.
NAME TO PRODUCT RELATIONSHIP: Female raisins, maybe?
SSI RATING (SNACK SATISFACTION INDEX - 1-10): 5
UPSIDE:
A nice textured taste. You can eat one at a time and feel like your mouth has enough taste to keep it happy, whereas other small candies (M&Ms) must be eaten by the small handfull to get satisfaction.
DOWNSIDE:
Lots of air in the bag, my friend. And "40% Less Fat than the leading chocolate candy" doesn't mean these little guys are low in fat, it means the leading chocolate candy has a boatload of fat in it.
1ST 4 INGREDIENTS:
Milk Chocolate
Raisins
Sugar
Cocoa processed with alkali
LAST 4 INGREDIENTS:
Cocoa processed with alkali
Tapioca Dextrin
Confectioner's Glaze
Peanut Traces
PACKAGING:
For some reason, yellow means healthy when you look at it through the vending machine glass. And this package is healthier than most college track teams.
DO I RECOMMEND YOU TRY THIS YOURSELF? (YES/NO - EXPLAIN):
Yeah, kinda.
WHICH SOUTH PARK CHARACTER WOULD LIKE IT BEST?:
Kyle. I don't know why, but I think Kyle would enjoy these.
HOW CAN THE PRODUCT BE IMPROVED:
Remove the "See back panel for information about Saturated Fat and Other Nutrients" copy from the front of the packaging. That statement is the equivalent of "Part of this complete breakfast." Hey, spoons are part of this complete breakfast, and saturated fat ain't a nutrient.