Fresh Snack Reports | Contact us

Potato Mania Potato Stix
OFFICIAL SNACK REPORT
Sanctioned By WASAW Snack Committee
Reviewed By: Paddy O'Poppycock

Location: Vending Machine

OFFICIAL NAME OF SNACK:
Potato ManiaTM POTATO STIX

PRICE: $.40

WEIGHT: 1 oz.

DESCRIPTION OF SNACK:
dozens of tiny, thin, room-temperature french fries

SSI RATING (SNACK SATISFACTION INDEX - 1-10): 9.2
---
UPSIDE: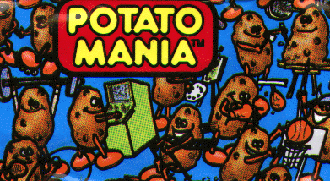 I first had potato stix when I was about 11 years old -- from a bowling alley vending machine. And I remember kids at school always getting potato stix in their "Dukes of Hazzard" and Close Encounters of The Third Kind lunchboxes. I never did. And boy, was I missing out. If you're in the mood for a salty, semi-greasy snack, here it is. Plenty of stix to satisfy you. And enjoying this snack as you look at the cool potato guys on the bag is a real trip. There's a spud playing an actual arcade game, yo.
DOWNSIDE:
Very salty and a tad greasy. Which only means I wouldn't recommend this snack three times a day. Only 11 grams of fat, though -- about the same as any 1 oz. bag of potato chips.
1ST 4 INGREDIENTS:
Potatoes (yes!)
Partially Hydrogenated Cottonseed (oh my!)
Sunflower and/or Soybean Oils
Salt
LAST 4 INGREDIENTS:
Only four ingredients altogether! Take that, Breyer's ice cream!
PACKAGING:
My favorite of all the over 200 snacks we've reported on...
DO I RECOMMEND YOU TRY THIS YOURSELF? (YES/NO - EXPLAIN):
YES!
WHICH SOUTH PARK CHARACTER WOULD LIKE IT BEST?:
Tweek.
HOW CAN THE PRODUCT BE IMPROVED:
It can't. Unless you can bring me back in time so that I could have enjoyed these when I was in the third grade, just like all my other classmates. Even those with cooties.